Rent DVC Points – An Honest Review on Renting Disney Vacation Club Points
This content contains affiliate links or sponsored elements, read our Disclosure Policy.
Rent DVC Points – An Honest Review on Renting Disney Vacation Club Points so you can get the ins and outs of how it works!
For our last trip to Disney world we rented DVC points. We love staying at Old Key West – we especially love the two bedroom villas with a ton of space for our family to relax in after a long day at the parks. My parents have been DVC members since the 90's – so it's like a second home to me. This last trip to Disney World I decided we would try renting DVC points through DVCrequest.com. I want to see if it was possible to save money and if it was worth it.
Just so you know:
This is my personal experience with a DVC Request (David's Vacation Rentals) – while I have affiliate links to the site I wasn't paid or comped a room to write this article. The money spent was all mine (which for a six night Disney World Vacation is a healthy chunk of change) – so you're getting a genuine review of this service from a consumer of this product. I've used it and I'm here to tell the unbiased pros and cons to the service to see if it's a good fit for you.
Just Get on with it:
Don't want to read the whole article? The short answer is yes, I recommend renting points from this service. It saved me money and handled the transaction professionally. But there are some quirks/ pitfalls you should be aware of before renting DVC Points. Read on to know what they are.
David's vacation club rentals review:
We'll go over:
What DVC is.
The Process of Renting DVC Points through Dave's Vacation Club
The Pros and Cons of using David's Vacation Club
FAQ's
What is the Disney Vacation Club?
Disney Vacation club started in 1991. In layman's terms it's a timeshare through Disney. DVC members get special perks like discounts, hotel suites and amenities that make it a "home away from home" at a Disney Resort.
Members buy points at a home resort and pay an annual fee based on the amount of points they own to maintain their membership. The home resort is where the member's points go the furthest. For example when my parents bought, Old Key West was the resort that you could buy points in and so that is their home resort. Since then Disney Vacation Club has added 14 resorts to it's roster. While most are located in Disney World there are resorts located in California, Hawaii and South Carolina.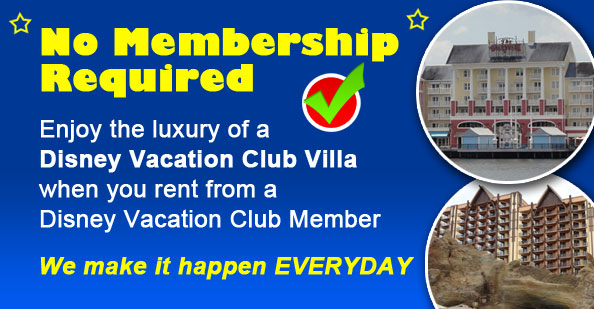 Points can also be used on Disney Cruises, Adventures by Disney and with partner hotels all over the world. The Disney resorts are nice, the accommodations spacious and perfect for families (hello washer and dryer!). While studios only have a kitchenette, larger two bedroom suites have two bathrooms, a full kitchen and living room, washer and dryer, and plenty of space for a large family or group. There are even Villas that have three bedrooms, three baths (accommodating more people) and includes everything that the two bedroom does. Also all resorts are deluxe level – meaning some of the nicest hotel offerings Disney has to offer.
Can you rent DVC points?
Yes. And while you can rent directly from an owner, unless you personally know them and trust them it can be dicey. That's why it's nice to have a broker with a written agreement handling the transaction. DVC request is perfect for being the middleman in such a transaction to protect both parties.
The Process of Renting Disney Vacation Club Points from DVCRequest.com
The process of renting points from David's Vacation Rentals is straightforward. The first thing you need to do is decide when and where you want to stay. The reason you need to know this is that some resorts and times of the year cost more than others. David's vacation club has this handy points calculator to figure out how many points you need to rent to stay at the resort of your choice and what it would cost you.
Once you have that figured out you fill out this form with the dates of travel – information on the people in your party and preferred resorts you would like to stay. You will also need to include a $133 deposit/down payment (this will later be deducted from your total) to secure the reservation. The reason you need to provide so much information up front is so you can access everything through My Disney Experience once everything is reserved – and that's a good thing.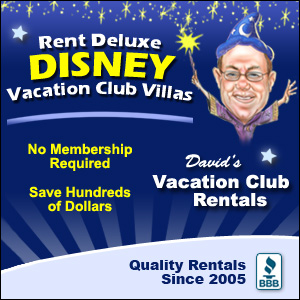 Now that you've submitted that information, David's Vacation Club Rentals gets to work trying to find a "match" for your reservation. They will let you know in 24 hours if they can (there can be a few hiccups here – but I'll get into that in a little bit). Once the reservation is secured you are expected to pay for the DVC points rental IN FULL. Since we believe in paying cash up front for our vacations it wasn't a big deal to us, but for someone who isn't quite ready to pay what can be a steep bill (into a few thousand dollars depending on the room size and your length of stay) this might be a deterrent.
Now that bill has been paid (and your wallet is crying a little) you'll be given the reservation number and information you'll need to get started in My Disney Experience (cue happy dance).
So far it sounds pretty simple – there are good things and bad things to this system. Let's start with the negative and then go to the positive.
The Cons of renting DVC Points:
1 – If you want to use the Disney Dining Plan it's a little weird
If you want to use the meal plan option at Walt Disney World booking it is a little weird/ difficult. Because Disney Vacation Club Members need to book their food plans through member services, you can't buy the plan yourself – the person who owns the point that you purchased the reservation from has to do it. Which means that you need to provide a total stranger your credit card information or provide them with a Disney gift card to pay for the meal plan (which again can cost a couple thousand depending on your length of stay and party size).
For me I felt like I was already trusting the DVC Member a lot with our reservation – giving them our credit info or a gift card worth a lot of money was right out. So we didn't do a dining plan. While this is in no way DVC Request's fault (it's how Disney Vacation Club has set up the system) if you have your heart set on using a dining plan for your party this might not be a viable option for you.

2 – You might not get the slot you want
This is the hiccup I mentioned earlier. Just because the points are available doesn't mean the time slot is. DVC rooms have limited availability and sometimes (especially if you're going at a popular time of year) the reservation you want can't be reserved. Unfortunately it appears that Disney will give priority to cash rooms rather than member rooms – so try to book out in advance to avoid the rush.
3 – Limited Mousekeeping
When you stay in a Disney Vacation Club room there is limited "Mousekeeping". Meaning after 4 consecutive days in your room you'll get "trash and towel service" and if you stay 8 consecutive nights you'll get a full cleaning on day 8. So if you have your heart set on full housekeeping everyday you'll either need to pay an extra fee or not book using DVC points. Personally I've stayed at the Walt Disney World Resort using DVC points for over 20 years and this has never been an issue. If you need more towels you can always request more.


4 – You don't get the other DVC benefits
Just so we're clear just because you rented the points doesn't mean you get the discounts on merchandise, access to lounges and other perks that DVC members have. Those are reserved for the Disney Vacation Club Points owner – you get the room and that's it.
Ok so now let's get to the good side of things!
The Pros to Rent DVC Points
1 – Renting someone else's Disney Vacation Club points can save you a TON of money
Seriously, rent Disney Vacation Points and you will save on a Deluxe Disney World Resort. When I compared how much it was to book through Disney vs. Dave's DVC rental, it saved me over $3,000 (yes, THREE THOUSAND DOLLARS) for the time of year and the room I wanted. You can compare it for yourself using their cost calculator here. By using some else's points it will save you money. This is after all the allure of purchasing a Disney Vacation Club membership.
2 – It's a great way to "Try before you Buy" a Disney Vacation Club experience
Thinking about getting a DVC membership? Why not kick the tires by trying out a suite at a resort using someone else's points? No need to take time out of your vacation to go on a tour and sit through a presentation. Just try it and see if you like the resort and amenities.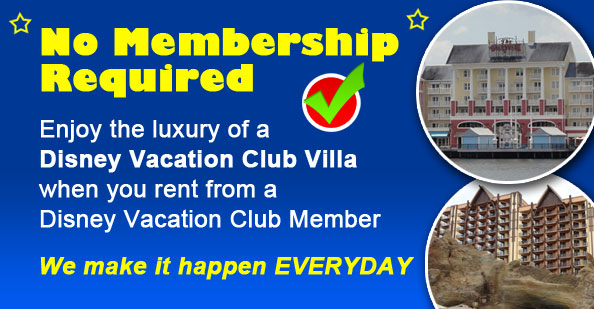 3 – It's also a great way not to commit
A DVC membership is expensive. Why not just rent points when you have the cash and not have to worry about membership fees and a possible monthly payment? I work for myself my and my paycheck fluctuates. Committing to such an extra isn't practical for me. So we vacation when we have the cash and if it's a lean year – no big deal. We don't go and don't have a bill we can't pay.
4 – It's nice that you have a broker/ middleman/ referee
While you can find ways to rent points on Discussion boards, you have to find someone with a good reputation or there is a chance that you'll be ripped off. Dave's DVC rental has this relationship down to a science. Both parties are under contract and the site acts like a broker between the two parties to keep everything on the up and up.
5 – Check in is the same, access in the app is the same
You can check in online. See your reservation in the My Disney Experience app. Check into your room and bypass the front desk (all resorts except for the Grand Californian). We did this on our last trip and it was great – on arrival we dropped our bags at bell services headed straight to the park and then just went straight to our room – no sacrificing park time to checking in!
If you already have your tickets purchased you can book your fast passes 60 days out since you're staying on Walt Disney World Property. You can book your restaurants 180 days out.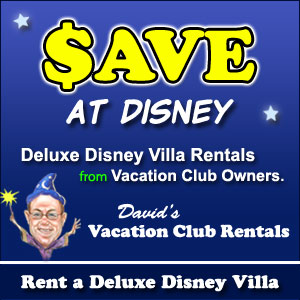 You also can use the resort amenities (pools, courts, play areas) without a resort fee! Plus I love the free bus, monorail and gondola transportation offered to the parks!
FAQ's
Do you recommend David's Vacation Club for renting DVC points?
We had a great experience and it saved us a LOT of money. So yes, if you don't mind some of the quirks of the transaction, I recommend them.
Is it cheaper to rent DVC points?
Most of the time it is cheaper to rent DVC points than to buy a deluxe hotel room directly from Disney. Sometimes there are really good packages available, so be sure to do your research to make sure you're getting the best deal possible. If you're asking is it cheaper than BUYING a DVC membership the technical answer is no. When you buy a DVC membership and go to Disney regularly you will save money in the long run – the very long run.
If you rent points will you get a magic band?
Sadly this has changed, if you want a magic band you will need to purchase it.
I hope this gives you a clear idea of what to expect when renting Disney Vacation Club Points from DVC Request and when the benefits and risks are. We had a great experience using this service and will use it again in the future!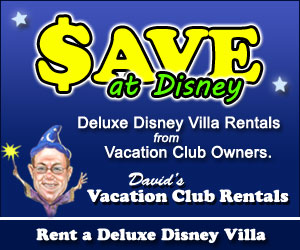 Other Disney Projects/ Articles that you might enjoy: